Carrot & Butter Bean Soup
This dish is great for a Saturday lunch, sat around the kitchen table with the family and a tower of rice cakes in the middle! What better way to spend your weekend?
Serves 4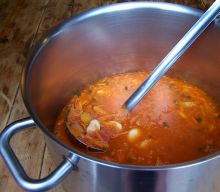 3 - 4 large carrots (peeled and grated)
1 - 2 tablespoons of extra virgin olive oil
1 large clove of garlic (peeled and crushed)
1 large red onion (peeled and chopped)
1 large leek (trimmed and sliced)
2 pints of vegetable stock
1 small potato (peeled and chopped)
2 fresh tomatoes (peeled, cored and chopped)
2 tablespoons of tomato purée
1 tablespoon of freshly chopped parsley
1x 400g tin of butter beans (or 100g dried)
Sea salt and freshly ground black pepper to taste
If using tinned beans, drain them in a colander and rinse thoroughly with cold water and set aside.
If you are going to use dried beans, you will need less in weight as they expand in size as they rehydrate.
You will need to prepare 100g of dried beans per 400g tinned beans and soak them for the required time.
Follow the relevant instructions for cooking the particular types of beans from dried. Tinned are so easy!
Peel and grate the carrots and leave them to one side.
In a large cooking pan with a lid, heat the oil.
On a medium heat, fry the garlic, onion and leek for about 5 minutes until soft, stirring regularly.
Add the stock, potato, tomatoes, tomato purée and half of the grated carrot to the pan. Mix in well.
Cover the pan and simmer for 15 - 20 minutes, stirring occasionally. Remove from heat.
When cooled slightly, blend the soup mixture a little with a hand-held blender to thicken it.
Add the rest of the grated carrot and the parsley to the soup.
Simmer for a further 15 minutes so that the grated carrot still has a little bite to it.
Finally, stir in the butter beans and warm through.
Serve immediately, or freeze for future lunches.
---