Beef Tacos
For a perfect night in with friends, serve these with guacamole, hummus and salsa for a full Mexican meal. My four year old daughter also loves these (but my cat prefers tuna).
Serves 3 - 4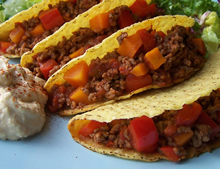 500g (17½oz) of organic beef mince
2 large cloves of garlic (peeled and crushed)
1 medium carrot (peeled and diced)
1 red pepper (cored, deseeded and diced)
1 teaspoon of freshly chopped oregano (or dried)
1 teaspoon of ground cumin
1 teaspoon of mild paprika
¾ teaspoon of cayenne pepper (optional)
1 x 400g tin of tomatoes
(or 4 fresh peeled tomatoes)
2 tablespoons of tomato purée
1 packet of plain taco shells
3 leaves of iceberg lettuce (shredded)
Sea salt and freshly ground black pepper to taste
Heat a wok on a medium heat. Add the beef mince and fry until it browns. Stir constantly to prevent it burning.
Break up the mince as it cooks and then drain off any excess oil (possibly about 6 tablespoons!!)
Add the garlic and spices to the beef mince and fry for a further couple of minutes, stirring occasionally.
Put in the carrot and pepper and stir-fry for about 5 - 10 minutes until they soften.
Mix in the tomatoes and tomato purée.
Cover and simmer for about 15 - 20 minutes, stirring often until the carrots and peppers are cooked.
Preheat the oven to 180°C/350°F/gas mark 4.
Place the taco shells on a tray with the top opening end down in the middle of the oven for 2 - 3 minutes.
Stuff the shells with the meat mixture and lettuce.
Serve with some Hummus, Guacamole and Salsa Dip (see recipes).
---